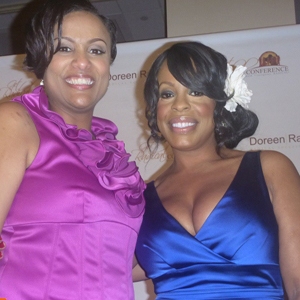 By: Dove
—
On March 25-27, 2011, hundreds of women from all over the country convened in Washington, DC for the Get Radical Women's Conference. Spearheaded by life coach Doreen Rainey, the three-day motivational gathering brought words of wisdom to eager ears.
The incredible line-up of speakers consisted of fitness guru Jillian Michaels of The Biggest Loser, Emmy-winning entertainer Niecy Nash, Emmy-winning life coach and author Rhonda Britten, entrepreneur Ali Brown and My Generation TV's wealth coach Deborah Owens.
Christine N. Jones of GoDaddy.com said a few inspiring words about her career to kick off Jillian Michaels' VIP luncheon, while Ali Brown also hosted her own VIP lunch. Meanwhile, public relations specialist Lori Lousararian, VP of Rogers & Cowan, held down the press room with Sirius Radio, Success in the City, Eurweb, CNN.com, BRE, PBS and other respected media outlets.
Usually when you attend a conference, you'll expect to bring home some gems that you can use to better yourself, whether professionally or personally. At the Get Radical Conference, women were actually engaging in life-changing discussions as they began mapping out new phases for their lives. Powerful stuff!
I was asked to work at the conference by Doreen and her husband Reginald Rainey, and I'm so thankful for the opportunity! It's instantly motivational to be in the midst of such great minds, and their presentations for the crowd were all amazing. Not to mention it was my birthday weekend, so at a time when I was doing a lot of self-reflection anyway, the timing was perfect!
We'll have an interview with Doreen Rainey soon about her thoughts on this year's conference, and what people can expect in 2012. For now, here are a few of the photos I snapped while I was running around the huge conference area, and you can catch more action and information in the links below!
(Just click the bottom edge of the picture to view larger!)
Find out more about the Get Radical Women's Conference at GetRadicalConference.com, and follow Doreen Rainey on Twitter @DoreenRainey for updates on the 2012 event! You'll definitely want to be there!
Special thanks to Osayamen Asemota of The Gift Agency!