By: Troy Gayle of Gadget-T.com
—
The holiday season is upon us, and we all know what that means… gift giving, sometimes obligatory.  After your immediate loved ones, there is one particular person who can add pressure to your "must find" gift list – your boss.  The extent of your admiration for – or fear of – your boss might determine how much you are willing to spend on them, just as much as your actual budget.
UrbLife.com and Gadget-T.com found a few options to help you out with your office offering! For our 2010 Boss Gift Guide we'll start with the "We're on good terms, let's keep it that way – but remember, I'm not rich" category.
If you're on the serious budget, it doesn't mean that your gift has to be too serious. Big bosses like to blow off steam, so why not give them some good conversation pieces for their desktop?
This cube of Buckyballs looks innocent enough, but it offers hours of fidgeting fun for any over-achiever. For just $29.95 you'll be giving the powers that be a little magnetic distraction – and just $5 more gets you fancy with black, gold or silver.
Watch this video for some creative Buckyball inventions… and if only it were this easy!
You might also try something like this remote control flying saucer from OfficePlayground.com. Yes, it seems juvenile, but trust, even the grumpiest boss is going to put their hands on this contraption when they think you're not watching!
A smile or two from the office Scrooge will be well worth your $24.95! Watch this demo – you might want one for yourself too!
If the boss likes to entertain, you can't go wrong with the Ravi Instant Wine Chiller, with a suggested retail of $39.95.  It's a steel wine bottle topper that you freeze, and it chills your wine as it is poured… perfect for unexpected company, the impromptu meeting or an end-of-day de-stress!

Who doesn't like to be pampered?  You're probably pretty safe grabbing a Conair FM18 Deep Tissue Foot Massager with Heat for a mere $21.00.  It can sit on the floor under the boss's desk, and no one ever has to know why they're always so relaxed come crunch time.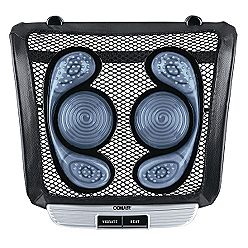 No matter what line of work you're in, you really can't go wrong with the Sungale 7″ MD700T Digital Touch Screen Picture Frame, for $79.99 at Office Max! It's got an LCD panel and a hi-res 800 x 480 digital screen, 512MB memory and a slideshow function.
It's also got video playback capability and built-in speakers, but hopefully your boss isn't watching home videos at their desk if they decide to keep this baby at work… just saying!
For those of you who may need a little bit more help getting the boss on your side, now is the time to strike.  We've tried the inexpensive, so now lets check out some "You pay me very well and I appreciate it" or "I really need a raise so I'm going to act like I don't need your raise" gifts!
Fist on the list is the Logitech Revue with Google TV for $299.99.  It's got everything that you love about the web, such as Pandora, Netflix and Twitter, all brought to your television. It even has a universal search that can locate your fave shows on the net, as well as on your connected DVR!
If you're working for an audiphile who can't sit still (or a Nosy Ned you just want to keep busy so you can spend more time reading this site), the RS 180 wireless headphones from Sennheiser may be what you're looking for. They have a suggested $389.95 tag, however Amazon.com has them on sale now for just $278.00!
Here's a quick run down of the RS 180 specs:
– KLEER uncompressed audio transmission for interference free reception
– Open-Aire speaker system mimcs the acoustic properties of hi-fi speakers for a truly immersing, hyper-real sound quality
– Automatic Level Control automatically compensates for variances in program material volume for optimum speech intelligibility at all times
– Balance control for right/left volume adjustment
– Multi-purpose transmitter – Also functions as 'easy-charge' cradle and docking station
– Multi-receiver mode- Up to 4 Sennheiser KLEER headphones listening to the same source
– Fully adjustable headband for an excellent and secure fit on nearly any head
– Luxurious velour earpads and headband cushions
– No complex set-up required – Just plug into the analog audio outputs on your audio source!
– KLEER technology will not interfere with wireless networks or other 2.4 gHz device.
And finally, we have something for the movie buff! The Slim Blu-ray™ from LaCie rings in at $264.99, and not only does it play Blu-rays, it records them as well!  Your boss will love having the ability to move it from home to office without needing any power supply – they can just plug right into their PC or laptop's USB port!
Again, we wouldn't want them to set a bad example by watching movies at work – unless they invite you, of course. Even if the novelty of watching movies wears off, they can still use it to back up their system.
No matter how much or how little you have to spend, you can stay on your boss's good side the creative way! The possibilites are endless!
For more gift ideas, check out Gadget-T.com, and just for fun, click here for a list of what NOT to give your boss (although the picture frame we listed makes the 'not' list too… We suppose it just depends on how many of your boss's family photos you want to see when you're in meetings!)