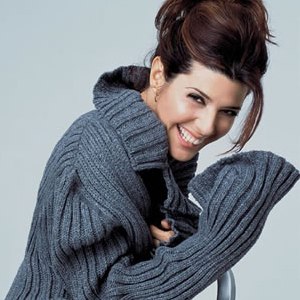 By: Dove
*questions are from various participants in a roundtable interview
From her Oscar-winning performance in My Cousin Vinny to her Oscar-nominated role in The Wrestler, Marisa Tomei has come a long way since her days as Lisa Bonet's chipper college roommate on A Different World. So far, in fact, that the 45-year-old beauty is now earning critical praise at the box office playing mom to a college-age son. Listed in the top 20 of FHM's 100 Sexiest Females in the World just last year, Marisa Tomei is proving that she's only getting better with time.
Currently, Tomei stars alongside Jonah Hill and John C. Reilly in the film Cyrus, a heart-warming and somewhat disturbing comedy about a young man whose close relationship with his mom is interfering in her newfound love life. Hill and Reilly play off one another brilliantly as anyone might expect, and directors Jay and Mark Duplass insist that Marisa was the perfect strong actress to balance out their scenes.
UrbLife.com sat down with Marisa Tomei in a roundtable interview to get some insight on her new role of Molly in Cyrus, behind-the-scenes antics, her work on the documentary Woineshet and more!
What was it like working with John C. Reilly and Jonah Hill?
Marisa: I love them – they were just actors pulling it apart. It was a small set and a small crew with a modest budget, and people who loved the script and really wanted to do it. That's their work ethic, and they're really funny off camera, so I was very much laughing and entertained by them.
We were talking with [Jonah and John] about moments where people had a hard time keeping a straight face during scenes. Were there any moments where you had a hard time keeping it together?
Marisa: When Jonah improvised "Don't f**k my mom" I thought I was going to lose it, and then John was so smart and quick witted to say, "Well, actually we did have sex." That's just the mastery and how fast their minds work – Jonah threw a hard curveball and John had to come in and take it to another level. It was great and amazing to see.
Where was Cyrus when he went into the bathroom with his mother?
Marisa: There was another door to his room, but there was an opaque [shower]curtain you couldn't see through. The impression was that he's in the bathroom with her, he's brushing his teeth but she's behind the curtain in the shower. It's playing to the audience, because it's John's point of view at that moment.
Do you have friends like that in real life?
Marisa: I have some free-wheeling, free thinking friends. But no one that [Molly] was based off of.
You have a lot of fans who remember you from A Different World [1987-88]. When you look back to your younger days, did you ever envision you'd be where you are now?
Marisa: Not much! [laughs]I just had a lot of spunk and I was trying to get a job, not really thinking of a plan. But that was a different time, because now you have all of these outlets that talk about the business, the business of the business, the craft of the business and everything that goes on behind the scenes. It wasn't like that before – it was more mysterious back when I started… I actually just saw Kadeem [Hardison] like two days ago, I just ran into him.
Have you run into Mickey Rourke since The Wrestler?
Marisa: I haven't actually, he went to do Iron Man 2 and I haven't run into him.
Your characters are not stereotypical women, but they are women that exist. Do you find yourself waiting for these scripts with these unique powerful women in them?
Marisa: Yeah, that's what I'm always looking for, things that give a little more breathing room to women. Things that aren't restrictive and let us be as complex as we are. I don't even like the literature that describes the role as a single mom. Would you do that to a guy? It's just a woman, for each character none of them are just one thing.
John's character starts off [in Cyrus]looking depressed and set up to look like a loser, but he keeps expanding and surprising, because people are not just one thing. The movie keeps revealing other parts of these people's souls, hearts, desires and foibles and that's happening with her too. She's a full woman.
Can you talk a little about your work on Woineshet?
Marisa: It was a narrative, a 15-minute short that came up as I went to Ethiopia. It documents the life of Woineshet Zebene Negash. She was documented in Nick Kristof's book [Half the Sky], he writes a weekly column for the New York Times. He writes about what's going on with women globally, and he had an idea to bring these stories to life in a format that's more accessible and different.
This was the first one that they funded and someone else was supposed to direct it. They dropped out at the last minute, I happened to know the people that were producing it, and they asked if I wanted to go to Africa to make my directorial debut. [laughs]
I co-directed it with my dear friend Lisa Leone who has done her own shorts, we filmed the life of Woineshet. The theme is bridal abduction – she was kidnapped and raped when she was 13, and changed the laws in the whole country. Now she's 21, and in less than 10 years she has taken on a codified patriarchal system and made it different for everybody in the whole country. It's the story of what she went through in 15 short minutes.
It was quite a crazy thing that I think I only could have done spontaneously, because it will be in another language that you don't speak! [laughs]That was so much freedom, but you can't lose when you don't have a script. It was so much fun.
How does that experience impact you or change you, to have a real person like that with such a story?
Marisa: On an artistic level it was very similar to Cyrus in how it was very liberating. If you're going to have the freedom to improve every day to see what comes of it there's a great spontaneity and liberation in that. They both created that openness inside of me at the same time, because that was on the heels of Cyrus, but being with [Woineshet] on a personal level is just a marvel and it's humbling.
I'm grateful to her for what she's done for everybody. She has perseverance, she speaks very quietly but she will not back down. When I got there, she had just gotten the personal phone number of someone from the African council and was insisting that he speak with her to make further changes, and she just keeps going.
One thing I love about [Molly] in Cyrus is the joy in her eyes, even though she hasn't had a man in her bed for 20 years or a comfortable relationship, she finds joy in that bubble. What did you draw from, and how did you create this lonely person that's still happy inside?
Marisa: I don't know, I guess I thought she doing everything being motivated by love and that she was comfortable with who she was.
Was there any scene in the movie that you'll look back and remember it for?
Marisa: I think the experience of making the movie was liberating, but the discussion that it's created. That's what will stick out in my mind, people want to talk about how they feel about it. That really says a lot about them. [laughs]I think that's really interesting.
Did Jay and Mark [Duplass] challenge you? Was there something in this movie you never knew you were able to do?
Marisa: It was definitely challenging to be in the ring with those two master improvisational comedians [Jonah Hill and John C. Reilly]. While I love comedy, I've gotten to do a lot of it and I want to keep doing more, the improvisational comedy was something I had dabbled in, but it wasn't a mandate until this movie and I got to be around the best.
CLICK HERE to read our Cyrus movie review and interview with Jonah Hill
CLICK HERE to read our interview with John C. Reilly
Related articles across the web