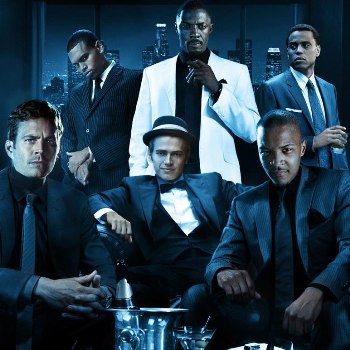 By: Dove
—
The official trailer for Takers dropped this week, after a push on the intended release of early 2010 to Summer. The storyline revolves around a huge bank heist-gone-wrong, and stars Idris Elba, Zoe Saldana, Matt Dillon, T.I., Jay Hernandez, Hayden Christensen, Paul Walker (Fast & Furious), Michael Ealy, Steve Harris (Diary of a Mad Black Woman), singer Chris Brown and Jonathan Schaech (Quarantine, Prom Night).
Will Smith's Overbrook Entertainment and T.I.'s Grand Hustle Entertainment teamed with Rainforest and Sony/Screen Gems to release this movie, so I think we can assume they put their foot in making sure it's a hit.
You can get updates on the film at WhoAreTheTakers.com, although it does seem strange that there is no credit for Zoe Saldana on the site or movie poster as of yet… Check for Takers in theaters August 20, 2010.