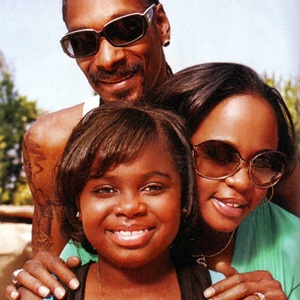 By: Dove
—
Calvin "Snoop Dogg" Broadus, his wife Shanté and their daughter Cori appeared on The View today (Aug. 6) to discuss 11-year-old Cori's battle with the incurable autoimmune disorder lupus. Diagnosed at just 6-years-old in 2005, Cori suffered hair loss, hives and rashes, weight loss and problems with joints in her fingers.
Fortunately, treatments at UCLA medical center and a focus on family, love and enjoying the moment have put the young honor roll student in better control of her life. In their View interview, Snoop and Shanté also discussed how they came back from the fringe of divorce, and have since strengthened family ties through helping their daughter.
If you would like to learn more about lupus or donate to the cause, check out Team Broadus movement at LupusLA.org. You can also read more about the family's determination to fight lupus in their People Magazine interview here.
Other celebrities affected by the disorder include Seal (47), America's Next Top Model contestant Mercedes Yvette (28), Trick Daddy (36), J Dilla (1974-2006) and Michael Jackson (1958-2009). Click here to read more at Cure4Lupus.org.
Watch the Broadus family interview from The View in the video below: