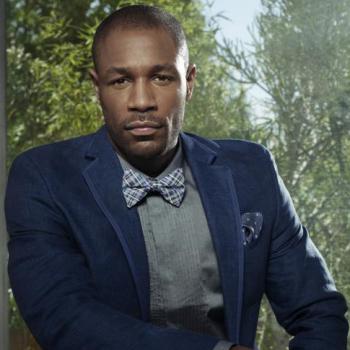 By: Dove
—
R&B artist Tank has a lot to celebrate this holiday season, particularly the release of his fourth album Now or Never via Atlantic Records. With a string of new videos (some featured below) and a busy tour schedule ahead, the fiercely talented singer/songwriter/producer/musician knows he has a lot to be thankful for.
Born in Wisconsin and raised in Maryland, the sexy crooner knows a little something about cozying up for the winter. Tank is also known for writing lyrics of the most romantic nature, so who better to ask for some perfect holiday dating tips?
In this exclusive feature, UrbLife.com has the scoop from Tank on the type of gifts you should be buying your lover, which must-have CD will get you some action under that mistletoe, which holiday special he always looks forward to, and why you just might hear him covering a "hard" rap track sometime in the near future!
We're getting ideas on how to stir up some romance for the holidays, but what are the best gifts you can give someone you aren't in a committed relationship with?
Tank: I think you kind of give them what they want… [laughs]I think in that type of situation, unless you think that person is feeling it way more than you are, then you should give them what they want. You never go wrong with smell goods. You also never go wrong with gift certificates from a Best Buy or a restaurant.
Nice! But what if your lover takes someone else out to eat with the gift certificate you bought them?
Tank: Set the parameters before they use it, but if you're not committed then it shouldn't matter who they take out.
What about jewelry? Is that every appropriate to give someone you're just dating?
Tank: Sure – for a guy, a watch. For a woman, you can get a cool little bracelet type thing.
Are diamonds ok?
There can be some diamond dust on it, or have them do that tricky engraving where it at least looks like it's sparkling. You don't want it to be cheap – you still want to come off as a good friend.
What Christmas cd's would you listen to with your date?
Tank: You can't go wrong with the Boyz II Men and Brian McKnight [Christmas Interpretations, 1993] CD! That's a classic – it could be on repeat to really get it poppin'.
If you could put out any Christmas song as an official release, what would it be?
Tank: I would go and get a song from the Charlie Brown Christmas collection. I love the arrangements – they are the most incredible arrangements ever. I think it's "Christmas Time is Here" [sings the melody]– remember that one? That one melts my heart – I love that! [laughs][Ed. note: "Christmas Time is Here" was covered by Brian McKnight, Anita Baker, Toni Braxton and some others, and Tank would sound marvelous doing it!]
What Christmas special do you look forward to the most every year?
Tank: Charlie Brown! I love that! And what's the one with the Abominable Snowman? [Rudolph the Red Nose Reindeer] Those are my joints!
What are you going to be doing for New Year's Eve?
Tank: I might be doing a show in Houston. We're going to hold hands and pray, and bring this New Year in, and then we're going to perform, and thank God for the gifts He's given us, and put 'em on display.
Tell us about your new album Now or Never, and where you're at in your career.
Tank: The new album is just a reflection of where I am, I'm very happy and very excited about everything that's going on career-wise and personally. This album is just that – it's a combination of everything I've been through and everything I've learned in all my years. And now getting this opportunity with Atlantic Records to make some big things happen, I'm just excited to do just that.
We had two or three albums already recorded and ready to go, but once we started really diving into getting this deal done and seeing all of the possibilities, I just scratched everything and went into this with the spirit I have now and just created a whole new album, and that's the album we have now. It's exciting – more celebration, more appreciation, just bobbin' your head a little bit more with the Tank.
In the past you've covered some songs in your shows that you were feeling. Is there any current song you'd like to do that with?
Tank: The song I'm feeling right now I can't really do a cover of… it's Waka Flocka [laughs]so I won't really be singing that. But I'll have my DJ play it so we can get off the chain.
I saw you do T-Pain's "Buy You a Drink" and it was awesome.
Tank: Yeah, I can pull that off without a hitch.
But "Hard in the Paint" might be kind of… hard.
Tank: "Hard in the Paint" might be hard… but I might try it just to be funny, just to see how they feel about it, and do a bunch of my rap songs. [laughs]
Find out more about Tank at TheRealTank.com, and follow him on Twitter @TheRealTank
Watch Tank's "Emergency" video from the Now or Never album
"I Can't Make You Love Me" teaser video
"Amazing" lyric video
Get Tank's Now or Never on iTunes – available now!
Related articles across the web