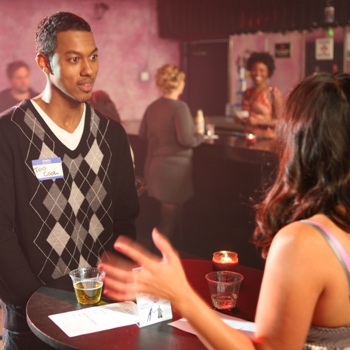 By: Dove and Kel Spencer
—
Now that online social networking has become such a key form of communication, it's no surprise that more and more people are making business contacts, new friends and even finding love in the digital world. There are, however, those of us who feel that nothing can beat meeting someone face-to-face before you divulge your personal thoughts to them. Twitter much?
Of course, there are successful dating sites like eHarmony.com and Match.com that offer the opportunity to meet others based upon personality and lifestyle. But what about physical chemistry? Can you still flirt, get butterflies and ask logical questions at the same time? Advocates of Speed Dating think so!
According to SpeedDating.com, the quick chat style of meeting potential mates originated in 1998 in Beverly Hills. In the 2000's it became a cultural phenomenon, leading flocks of lovelorn hopefuls to engage in several seven-minute interviews in the course of an evening.
In 2008, Brooklyn, New York artist and community activist Kel Spencer founded Salon Stories, which hosts a monthly event Speed Dating event for big city singles. If you've ever thought about trying it out, take notes as Kel gives UrbLife.com his Top 7 tips on how to make the most out of a Speed Dating experience! Read on…
1. Have Fun! I can understand how Speed Dating can feel like all eyes are on you but in actuality, everyone else there is more concerned with what they're going to say and how they're going to respond, and whether or not anyone notices their pimple, etc. They're not thinking about you. Yes! People will look at you, but people look at you every day. With that being said, relax and have fun.
2. Kill the Cool. Leave the nonchalant act at the door. Of course no one wants to look like they're over-excited, pressed or extra thirsty for a date – I get it. But the fact that you came already shows everyone else that you're interested, or at least open to the idea of conversing and possibly creating a friendship with someone there. And that's a good thing! But showing up and then walking around the joint with the "I don't really need to be here" attitude makes you look like a weirdo, and is a bit disrespectful to the entire cause.
3. Ears First, Mouth Last. Just like Salon Stories, most Speed Dating forums have a structure. That structure is designed for you to get the most out of the experience. Straying from that structure can disrupt the flow of the event and make you look… again, like a weirdo. Pay attention to what the host is sharing (Ears) and even ask questions if need be, then get your date on (Mouth)!!
4. Handshake! Set the tone. Most people are naturally skeptic when coming in contact with others, especially for the purpose of conversing, sharing and giving information. Put all of that ease and be impressive from the gate by doing the following;
Ladies – Believe it or not, most men are surprised and a bit impressed by a firm handshake and eye contact from a woman. Yes, you should still be cute while doing it and not give him the kung fu grip, but more firmness than he's expecting will draw a certain respect from him and make the playing field more even.
Gentlemen – Use two hands. If she gives you the firm handshake, simply use your free hand to cover her backhand. It'll almost be like your hands are sandwiching hers. But if she appears to be the classic "dainty" type, then reach for a handshake with both hands. Your right reaches for her left and your left reaches for her right, palms up. allowing her to rest her hands in yours. Both of these approaches will show her initial respect and put her at ease in entering the conversation. Unless of course she's a… well… a weirdo.
5. Nose Candy. Pardon the reference, but Do Not! Do Not OD on the body scents. Pick that one fragrance that you get the most compliments on by the opposite sex and use a small amount of it. Everyone there is going to be dating several people, who each will have a different scent. This process can subconsciously become a "guess that smell" competition. However, if you have on a faint fragrance, it's attractive but not overwhelming, and keeps the focus on you and not what your neck smells like.
6. Laugh and Listen! Contrary to popular belief, listening is the most important part of communication. I can understand how a person would want to put their best foot forward and make it known that they're good-hearted, and that they're driven and ambitious and spiritual and great with children and blah blah blah… I get it! But putting out just a small amount about yourself and then building the conversation on what you're learning about the other person is best. Here's why:
(A) It shows that you're actually listening
(B) It shows selflessness and puts them in a position to ask, rather than you firing off with random "About Me" factoids
(C) It leaves enough about you out of the conversation, causing the other person to become more interested and possibly want to date again.
7. Ignore the Foolery. Just like Salon Stories, most Speed Dating formats are repetitive (monthly, weekly, etc…). If you are unsuccessful on your first date, do not adopt the, "Well, I'm not going back again because I don't want to look thirsty" attitude. That's wack and foolish. No one wants to be the person sitting on the porch at 75-years-old in a rocking chair petting a cat, with no companionship and no mate!
At the very least, you can use these opportunities to network. Besides, the only people who would know that you're a repeat speed dater, are other repeat speed daters! I personally think repeat speed daters are the most mature, and will probably get a greater reward for it in the end.
I wish I invented Speed Dating! It's a microcosm of the dating world. You get three to five minutes with people. You learn, you share, you leave – and hopefully you've planted a seed that can grow into a dope experience. Why a single person wouldn't try it at least once is beyond me.
I love you all, real talk. And thanks to UrbLife.com for allowing me to share!
Find out more about Kel Spencer and Salon Stories at KelSpencer.com and Facebook.com/HomeOfSalonStories
Incidentally, there is a new movie out now called Speed-Dating, starring Wesley Jonathan (What I Like About You, Roll Bounce), Holly Robinson-Peete, Chris Elliott, Chingy, Vanessa Simmons, Chico Benymon (Half & Half), video vixen Esther Baxter and more. Check out the trailer: