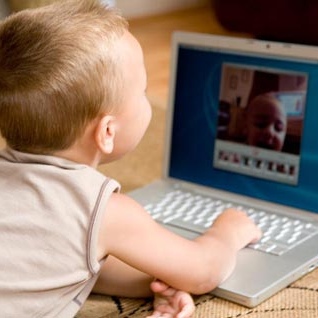 By: Tennille Patterson
—
Home videos use to be just that, for home viewing. However, with the launch of YouTube and similar user-driven video sites, we've seen an influx of parents sharing their children with the world. After viewing several videos over the years, I began to question the parents' motives.
Personally, I can justify uploading videos of my child to share special moments with family who live far away. But then again, many parents don't think the same, and many of the videos I've viewed were far from special moments. I found a few examples for you to review and give your take on the content, which has been controversial in some cases.
This video gained great exposure since it was posted in late April on Perez Hilton's website, resulting in a serious career in less than three weeks. Twelve-year-old Grayson Chance sang Lady Gaga's hit "Paparazzi" at his middle school talent show, and by mid-May he was performing live on The Ellen Degeneres Show.
According to Entertainment Tonight, he's now the first music artist signed to Ellen's record label Eleveneleven. Does the Internet offer an easier way to get a break or is it just luck? Take a look at what over 26 million people thought was so amazing:
To date, nearly 62 million people have viewed 7-year-old David's reaction to anesthesia given to him at the dentist. Most viewers found it hilarious, but it's not very flattering…  I wonder if David will think it's embarrassing later? Did his parents exploit him?
The video proved lucrative for the family, resulting in a website that sells various merchandise including the catchphrase "Is this real life?" His parents state that sales go towards David's college fund and Operation Smile.
Controversy erupted when the video of these 7-year-old dancers performing to Beyoncé's 2008 hit song "Single Ladies" surfaced, as it was never meant to reach the public. The tiny dancers are dressed in midriff-baring tops, short skirts, and black stockings at World of Dance, the largest urban dance competition. Once the video hit the Internet it was met with great scrutiny, and has since been removed. The footage was even discussed on CNN's AC 360 – click here to watch their reactions!
At just 3-years-old, Keira performed the "Baby Gaga" spoof of Lady Gaga's "Telephone" music video. This particular video was one that had me rather perplexed. During a CBS News interview, the mother claimed she had no intention or idea that this would be such a huge deal. Really now?
So after three hours of shooting this professional video, including set and wardrobe changes, props (handcuffs!), makeup, background dancers, not one person involved hoped this would blow up? I find that more than hard to believe. The YouTube video has since been placed as 'private', however the footage is still floating around the net complete with child and parents' full names attached.
Here is the CBS news report with the mother and video director:
Our children are born and raised in a digital age, so shouldn't we expect them to participate in social media? Check out 9-year-old Sarah from Oklahoma, sharing her voice with the world after President Obama's September 2009 address to students. Although Sarah's video touches on a very popular issue, it has just over 191,500 views, while the potentially exploitive videos have millions of views. Why is that?
These are just a few of the many parent-encouraged videos posted on the Internet daily. I can't help but think of these images as the modern day equivalent to the naked bathtub pictures our parents showed our friends once we got older. The difference lies in that those embarrassing baby pictures are in our parents' attic, but what is on the Internet lives forever.
Should there be rules about publishing videos of your own children online? Please share your thoughts!
Tennille Patterson is a media producer, writer and mom. She's also vying for her own parenting talk show on Oprah's new television network! View and vote for Tennille at Vote4Parenting.com