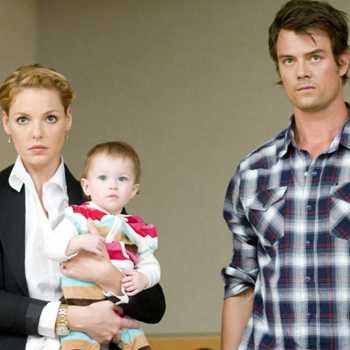 By: Dove
—
What happens when two people who don't really like each other become parents… together? In Life As We Know It, Holly (Katherine Heigl) and Eric (Josh Duhamel) are single 30-somethings who fail miserably in their attempt to date each other. Unfortunately, their mutual friends Alison (Christina Hendricks) and Peter (Hayes MacArthur) pass away, leaving their infant daughter in the care of Holly and Eric. Godparents turned unwitting parents then have to learn to live with a baby, and each other.
The whole story should make for a decent, if not predictable, romantic comedy.
Life As We Know It also stars Josh Lucas (Poseidon, A Beautiful Mind), Will Sasso (MADtv), Faizon Love (Couples Retreat, The Perfect Holiday), Jessica St. Clair (She's Out of My League, The Goods: Live Hard, Sell Hard), Reggie Lee (Drag Me to Hell), Andy Buckley (The Office) and veteran actress Jean Smart.
The movie will be in theaters in October 2010, and is directed by writer/producer Greg Berlanti, who is responsible for various television series like ABC's Brothers & Sisters. Berlanti is also readying the upcoming Green Lantern movie starring Ryan Reynolds and Blake Lively.
Side note: Katherine Heigl (31) and her husband just adopted a baby from South Korea last year, and Josh Duhamel (37) is still childless. Duhamel recenly told People Magazine that he'd like to have kids with his wife Fergie "someday" – while Fergie just mentioned in Fall '09 that they planned on having one this year. Hopefully they work that timeline out…
Do you think it's becoming more common or less common for people to wait until their 30's to plan for children?