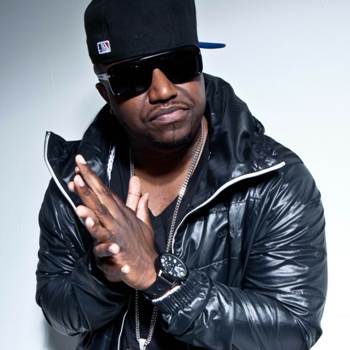 By: Dove
—

Grammy Award-winning songwriter/producer Rico Love has more than made a name for himself in the music industry. In less than 10 years' time, the 28-year-old multi-talent has already worked with Beyoncé, Usher, Pussycat Dolls, Natasha Bedingfield, Flo-Rida, Jamie Foxx, Nelly, Tank, Gossip Girl's Leighton Meester, Keri Hilson, Ciara, Fat Joe, Omarion and Diddy. He also collaborates on the regular with super producer Jim Jonsin, and yes, that's the short list!
A graduate of Florida A&M University, Love caught the music bug in college and forged the path to a rap career. He was eventually signed to Usher's label, penning songs for other artists as he went along. He won a Grammy for his production work on Beyoncé's I Am… Sasha Fierce album in 2009, and dove in to developing new artists for his own imprint.
Currently boasting a new partnership between his Division 1 label and Universal Motown, Rico Love is starting off 2011 with high hopes for his future. He's also spreading his wings in fashion with a new line called Love's Foundation, and UrbLife.com got a little insight from the young tastemaker on what we can expect when music, style and love collide!
What type of clothing will you be putting out with your new line?
Rico Love: It's called Love's Foundation, and basically right now I'm just developing jackets. The logo is a heart, obviously playing off the name Rico Love. Love's Foundation is symbolizing where everything should be – I feel like love is the center of the world.
Love is what brings us together. Love is what brings countries and different genres of music and all walks of life together for whatever reason. Love can bring us face to face with different people who we would have never thought we would be face to face with.
We're specializing in jackets and cardigans. For example, I have a leather shirt that's short sleeved. It buttons up and the heart logo is on the right chest. Everything is a heart. It's really about sleek, edgy, young, but fashionable style. It's mature, but at the same time young and fresh. Nothing too gaudy, but I like bright colors. I like to play with different fabrics and designs. For my birthday I did a python skin biker jacket with a gold heart.
Whoa. Where's PETA at? Are you worried about PETA? [laughs]
RL: [laughs]PETA may have a problem with me. [laughs]Yeah but it's different. Anything that comes in my head, I just call up my guy and have him make it.
What's the cut like? Are you making it European fit, or are you doing stuff for bigger guys?
RL: I'm definitely going to develop stuff for bigger guys like athletes and stuff like that, but I don't want anything to be extra baggy or anything like that. If we make a fit, it will be for big and tall. I wouldn't go as far as saying European fit either. The sizes go up to 2x. I just want a sleek, clean, fly look.
A love theme could get kind of cliché if you don't go about it the right way. What kind of designs are you making that might outlast a trend?
RL: The thing about a cardigan is that it's timeless. It's just the same as a button up polo or a Lacrosse type of design. Those things that I have chosen to pull from are things that can never go out of style. Hoodies can never go out of style. Certain things are always going to be around because it's just the fabric of American and urban culture.
I try to make sure that I don't get into fads and don't get into the "what's in now." You know obviously if it's a piece that is popular, we would do our own spin on it but I definitely want to pick more classic styles and cuts.
You said that you are going to have a lot of different colors. What are key colors that people want to look out for?
RL: Red and black, red and white, the Yankee blues. I have a few pieces that are yellow. I love gold. I think gold looks amazing on black skin.
Would you look into actually customizing for another artist, or do you want people to rep the line as you see it?
RL: I definitely wouldn't be opposed to tailor fitting or personalizing things for different artists I feel that will give me inspiration. But I definitely want it to be my take on fashion. I want people to embrace what's going on in my head. I guess for my artists, like Young Chris, I'm doing a special line for him.
Sophie Green is one of my artists that is like a fashionista. She and I are going to be designing some stuff together and putting out some styles for women, even though slowly I'm going to be geared towards men. I think that it's important for a line to have to choose a gender at first and then branch out. I definitely want to personalize some pieces for her as well.
I think it should be my take on it and have people embrace my style. I'm pretty sure that most people relate to what I got going on in my head.
What are some of the biggest lessons you have learned watching other celebrities with their clothing lines?
RL: The biggest mistake is to force your line on to people. You know make it too much of a sell. "Here's my line. Buy this! Wear this!" I feel like it takes away from the authenticity of it. Whenever you sell something, you're trying to force it down someone's throat so to speak. It takes away the mystery and the desire to have it.
So at this point what I'm doing is just wearing the line. When you see me out, I'm always going to have my line on. Whatever I have on, I'm always wearing [my brand]. What happens is people start to question and ask what I am wearing. That way the demand will go up. I'm not saying at this point we're selling the line. Right now we're just branding it, wearing it, and marketing it, and then from there I'm sure people will bite.
Yeah that's smart. Thus far, have you attached yourself or invested money in any other musician's clothing line?
RL: No. As a kid, I wore Sean John when it first came out. Every once in a while, I would go and get a Sean John fleece. Diddy is my brother. I really was interested in the pastels that Kanye was developing and I don't know what happened with that. I always thought that that would have been fly. That's something I would have invested in.
You are a business owner, a person who manages the careers of other people, and you have a fashion line which involves a lot of business management. How are you going to balance all of this and have a personal life?
RL: I just feel like it's fun. It's day to day. The thing about it is we always try to, in the entertainment business, we try to pity ourselves. Like, "Oh we do so much work." The thing about that is that you have to think about the average person.
The average person has to get up in the morning, go to work all day long, probably doing something that they don't like. They have kids and have to come home and cook and take care of the kids. They have to pay their own bills. They don't have an accountant or things like that. They have to pay their own taxes. They have to deal with family and take care of their mom or sisters or the family. Those are different jobs that people have.
The difference between mine and theirs is that I love what I'm doing.  So I think that I have it a lot easier than most people. I don't want people to discredit that hard work that goes into this, a lot of times people take that as me saying, "Oh, it's not hard work." It's definitely hard work and it's just as hard work as it is for them. It's equal in how strenuous and the time. It takes away from personal time with your family and things like that, but I'm enjoying what I'm doing.
I think that's the difference between myself and most of America who's doing the same thing. I don't feel that it's much different in the grind sense of it. I don't want to make it seem like I'm wearing so many hats and it's harder. I think that it is equal to what other people are doing. I just love it.
There are a lot of politics in the fashion industry. Have you prepared yourself for going into battle for those customers?
RL: Well you know I'm from Harlem, so I'm always prepared for any type of drama, for politics and things like that. I don't really have a problem with dealing with people and their bullshit or lack thereof. I know who I am and I know what I'm trying to do. I know what I'm going to do and when I set my goals, nothing can stop me. Without struggle, it's not even worth it. I'm prepared for whatever.
Nice! Tell us a little bit about what you have coming up with the record label.
RL: Yes! I have Division 1. I just closed my label deal, a 50/50 venture with Universal Motown. I have Young Chris. I'm so excited about him. He was signed to Rocafella and in a group called the Young Gunz. For me to sign him on a solo deal, I'm very excited about that. The Re-Introduction is the mixtape he just released, and it's getting immediate positive feedback
It's exciting to see everything come together. I'm developing a female R&B singer out of Miami by the name of Cherlise. She has a sexy, sensual, sweet voice. She has a young, fly energy and is fashion forward – like MIA in high heels. I'm a huge fan of her music. I love her vibe and her energy. Also Sofi Green, a solo female artist that I have been developing. She's out of Brooklyn and she just has so much energy.
Also MJ, he's an R&B artist I just signed. Just a soulful voice, it's like a mixture of Case and Usher. It's a weird mix, but so rugged R&B and it has a sweet undertone. I'm excited about that and developing artists that I really believe in, and that I believe that I can take to the next level and develop myself. I'm very hands on with my artists. I'm executive producer on all of their albums. I'm on all of their projects, writing their songs for them, getting in the studio with them, and helping them develop their song writing abilities. Things like that.
I work seven days a week working for other artists, and now I get to work seven days a week working for my own artists as well. I don't mind wearing the many hats of executive producer, CEO, president. I'm very hands on as far as fashion, photo shoots, who's going to be the stylist, and everything. That's what makes it more fun.
Follow Rico Love on Twitter @IamRicoLove