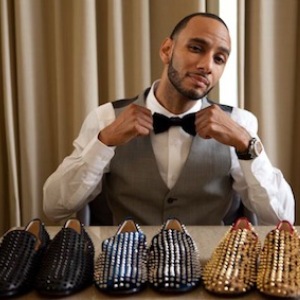 By: Dove
—
Swizz Beatz debuted the Exotic Skin sneaker from his Louboutin line last week via Twitter, adding to his growing collection with the popular designer. Swizz is wearing the shoes in Drake's upcoming video for "Fancy" from the Thank Me Later album, which also features T.I. A version of the Exotic Skin sneaker was actually premiered back in Feburary, but very little was known about the direction of the line at that time.
In April, CaviNYC.com debuted some photos of Swizz Beatz' studded jacket line with Christian Louboutin…
then in June, Swizz put out images of a spiked sneaker.
UpscaleHype.com recently reported on the CL Fall/Winter 2010 line, but there is no confirmation if Swizz' new designs will be added to the season.
The 31-year-old multi-talent also showed off some of his creative sculpture art this week with the golden skull of some sort of prehistoric tusked creature, chomping away on his shoe collection. We're not sure what it is, but it definitely stands out!
Incidentally, Louboutin has one of the craziest, coolest websites we've ever seen! It will be interesting to see what kind of page Swizz Beatz ends up with on the site!