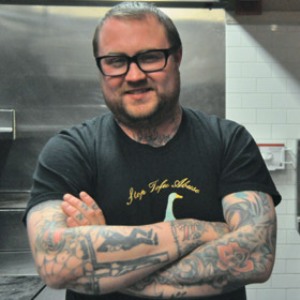 By: Dove
—
Once a punk, always a punk… or at least that's what adults thought of Gen-Xers during the '80s and '90s. With the "slacker" years far behind us, entrepreneurs like Chef Jamie Bissonnette are giving our generation a fantastic lasting image, without compromising the cool.
As chef and co-owner of both Coppa and Toro restaurants in Boston, Massachusetts, Bissonnette was voted "The People's Best New Chef" for 2011 by Food & Wine Magazine, and rocked the competition recently on The Food Network's Chopped.
In addition to being an aggressive business man, the heavily-tatted culinary expert can butcher a pig like nobody's business! Jamie's prowess in the kitchen is pretty impressive for a guy who used to be a vegetarian, but what made him decide to add meat to his diet?
We caught up with Jamie Bissonnette to find out how this critically acclaimed chef keeps punk rock and fine cuisine flowing through the same veins, his secret for a dramatic weight loss in 2011, and what items he feels every man needs to keep handy in the kitchen to impress guests!
When you look at all of the cultural influences that you had growing up, at what point in your life did you say, "I'm going to become a chef"?
Jamie Bissonette: I don't think I ever had that one moment of realization. Fortunately I was kind of lucky, in the back of my mind I always knew. The first time I ever cooked for anybody was cooking for the guys that were painting the outside of the house. My father had gotten some college kids that were home from their first year of college visiting.
They asked what I was making, and it was scrambled eggs with cheese on sort of an open face kind of thing. They ate it and I was like, "Wow this is great, I can do this!" They were like, "How did you make the eggs so perfect?" I was like 10 or 11 years old, I had no idea.
Even through punk rock… I think no matter what you do, food always becomes a focus for a lot of groups. For us in punk rock, being straight edge and hardcore, a lot of us were vegan and vegetarians. We would could to a lot of shows and afterwards we wouldn't drink, so the natural thing was to say, "Hey let's go to Denny's" or "Let's go to the Gold Rock Diner in Hartford." Even though it was grilled cheese and Swiss cheese omelets, or whatever we were excited about, it was still food.
For every time I went to a show, after the show we went out to eat. Music for me, like the traveling, for punk and food was synonymous.
What made you decide to make the transition from being vegan to eating meat again?
JB: It was a pretty cut and dry moment. The shop that I was working for was like, "You've been cooking for a bunch of years and you're pretty damn good kid." I said, "Yeah, I want to be a chef." He asked did I want to be a vegan chef and cook vegetarian food, and I said, "No I want to do it all" – like a young chef in the mid-90s wanted to do. We wanted to be French chefs and learn about the new techniques out there.
He said, "You cook it well, but you don't know what it tastes like. How are you ever going to be creative. If you don't eat it, how will you know what to do with it?" I said, "I don't know," and his advice was to start eating meat.
I had already been tasting sauces and chewing things and spitting them out, because you need to taste your food for it to be good. That was it. I made a conscious decision, it was like a Tuesday or a Wednesday, and by the end of the week I was eating steak tartare. These were complete life changing moments, and I didn't even look at it like it was anything. It was like, "Oh I eat meat now. No big deal."
You've dropped some weight. Was this a conscious decision or did it just happen from working so hard?
JB: Yeah. I think I've lost 40 to 45 pounds since January. That was just… I don't know. I like being the hardest worker in my kitchen and the fastest. I started to realize that I was still pretty damn fast and still the best cooker in the kitchen. I can out-cook all of my cooks on any station. I was getting tired and wasn't feeling well a lot. I was wanting to take days off and lay down. I went to the doctor and he said that I should lose 15 to 20 pounds. So I did.
I'm around delicious foods all day long. Instead of eating five grams to taste, I would eat like five ounces of it. I don't need to [over-do it], I know what these things taste like. I still eat and taste whatever I want, I just eat them in smaller quantities. Instead of going to the walk-in and grabbing a slice of ham or cheese, for my afternoon snack, I'll just grab a banana.
What are seven things that every man should have in his kitchen to be ready for anything?
JB: 1. Every man should have a nice bottle of sparkling wine. It's the perfect thing to open up for any reason. It has the reminisce of having a beer with a buddy, but with a little more flavor and balance. It has the image of luxury. It's my favorite thing to drink.
2. Every man should have some sort of music, like a record player or something like that. Everyone always congregates to the kitchen if you're having a party, or if you're conversing with someone you always end up standing in the kitchen. Snacking or drinking, no matter what happens you always end up there. I live in Boston – I can play my iPhone in the bathroom and hear it in the entire house. Music is really important to change the mood.
3. Wooden cutting board and sharp knives.
4. Sea salt. If you're cooking something for a friend, or even if you're opening up Italian canned tuna belly with a fresh slice of tomato and cucumber on bread, putting a nice olive oil and sea salt on top of it will just elevate that. It's the little things that count when you cook, and I think that will impress friends.
5. Olive oil. Really good olive oil for cooking… and it's good for your skin.
6. A wine opener. Have a nice wine key.
7. A freezer full of ice. There's nothing more frustrating than when you go to someone's house and they offer you a cocktail but they don't have any ice. Keep your champagne cold, cool down a beer, or make a cocktail.
Tell us a little about what's coming up for you next.
JB: Working on another restaurant someday. I've been filming with the people from Unique Eats on the Cooking Channel.
What do you want people to know about your restaurants?
JB: I would love when people come to Boston to try one for lunch and one for dinner. They're completely different styles of food. One is mostly Italian, the other is Spanish tapas, more avant-garde. You'll probably always see me at one of them. I drive a blue Vespa, so you'll know which one I'm at.
I teach at Boston University in the gastronomy department. Tomorrow I have a class where I'll be teaching a group of 20 students getting their Master's in gastronomy about the history of food to modern techniques. I'm going to teach them how to butcher a whole lamb, chicken, duck, and a side of beef. It's a two-hour lecture and a four-hour hands on class.
Watch Jamie Bissonnette on The Food Network's Chopped – Full Episode

Find out more about Chef Jamie Bissonnette's culinary creations at CoppaBoston.com and Toro-Restaurant.com, and follow him on Twitter @JamieBiss